April 22, 2022 Newsletter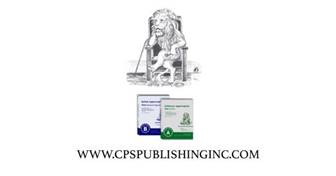 Welcome back to CPS and its global expansions!
CPS is proud to announce new developments. Despite COVID, CPS received requests for new contracts! CPS was contacted by a wonderful Spanish-language publisher based in Mexico and, as a result, CPS has continued to flourish! Starting in late 2022, this company will have published a Spanish version of Dr. Leopold Bellak's Brief Emergency and Brief Psychotherapy book, the EFA Manual, and the DVD video of BEP.
In addition, the CAT-A color has done so well that CPS created their newest test, the BAT (Bellak Apperception Test). Now, there is no longer any need to hear students complain about the lack of cultural insensitivity in projective testing. The BAT represents five cultures and will be administered to teen and adult patients.
We will keep all our loyal customers around the world updated on this latest Bellak product! (Please see our website for a sample.).
CPS is looking for a partner in the field of Industrial psychology. Why, you ask? Because we want to extend our latest test into the area of leadership development.
Secrets and Psychoanalysis – The Untold Story of a Legend, Dr. Leopold Bellak's Life, Legacy and Family is just about completed and promises to share much about Dr. Bellak's life that no one knows about! The book will include much of his work, and how 70 years later, much has NOT changed and is applicable today.
CPS is interested in finding students to do two studies for validity and reliability for the CAT A color and BAT sets. Results will be entered into a well-known journal and written up on the CPS website.
CPS is also interested in receiving testimonies on the CAT color version as soon as possible to cpspsych2@aol.com.
A new webinar titled Broad Scope of Projective Tests-HR, Autism, ADHD and Art Therapy is also on its way. CPS has a goal to expand into the ever-growing field of autism using the CAT due to an amazing film produced by Sarah Moon. Feel free to inquire about our abbreviated 4-minute clip on The Kangaroo Complex. We will gladly send it to those interested. Those students studying ABA, (Applied Behavioral Assessments) will find it of interest too.
CPS wants to establish new contacts in universities around the globe. CPS is interested in educating as many young psychologists as possible on the range of uses for the CAT and especially the color set. To that end, anyone that sends us one or two contacts in which those contacts respond, will have their names listed as an expression of gratitude. We are interested in Germany, Switzerland, Austria, Australia, South Africa, Argentina, Lebanon, France, the UK and South Korea.